Popular email management app Mailbox for iOS is set to expand to the Mac, with the company making its desktop software available to the public through a beta test that begins today.
Mailbox for Mac resembles the Mailbox app for iOS, with a simple, clean interface that aims to help users reach "inbox zero." It includes all of the features of the iOS version, like easy controls to archive and delete emails, along with snooze functionality and organizational lists. It supports swipe gestures and it includes several hotkeys to control specific functions within the app.
The Mac email app also includes more advanced snooze controls, allowing users to snooze emails until they return to their desks, and it also adds draft support, saving drafts locally and syncing with Mailbox on other devices via Dropbox. Draft support has been a long-requested feature for Mailbox.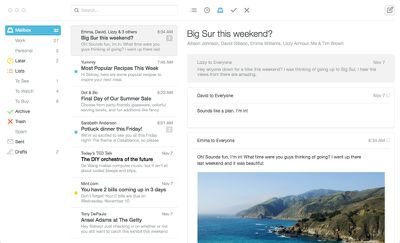 Support for drafts is one of the most common feature requests for Mailbox and becomes even more important when managing an inbox across multiple devices. Along with the rollout of Mailbox for Mac beta, we're also launching draft support for Mailbox on desktop (coming soon on iOS and Android). Drafts are saved locally to the device you're on and automatically synced across devices when you're signed in with your Dropbox.
First introduced in early 2013, Mailbox proved to be ultra popular, requiring a reservation system that restricted access to a limited number of users for several weeks. Shortly after its release, however, the app was acquired by file-sharing and storage service Dropbox, and the iOS version has seen several major updates since then. The Mac version was first announced back in April.
Users can sign up to beta test Mailbox on the company's website. While the software can be downloaded immediately, activating the beta app requires a betacoin, which will be sent out via email over the next few weeks. Users who signed up to beta test the app back in April should be receiving betacoins today.