Apple Pay Setup Process Revealed as Retail Employees and Partners Begin Training
Apple has begun preparing its retail employees and retail partners for the upcoming launch of its Apple Pay mobile payments service with a host of new training materials that show the feature in action, reports 9to5Mac.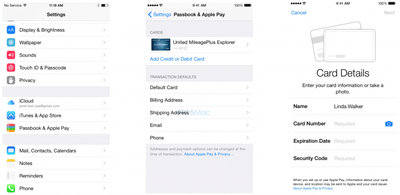 Users will be able to set up Apple Pay in Passbook or through the Settings app, as up to eight credit or debit cards be connected with an iTunes account or by scanning one in with the iPhone's camera. Every card connected to the service will allow users to access a number of features, including the ability to see a simple transaction list, the ability to turn on push notifications, and an area that allows quick access to a bank's phone number and an accompanying app. Passbook will also be able to automatically update an expired card with a new expiration date without the need to re-enter information.


For Apple's own stores, a customer will be able to return an item simply by holding an iPhone near a payment terminal to give a list of their recent transactions. Receipts from Apple Store purchases will also not display a customer's contact information or credit card number, but will rather show just the last four digits of a device's Apple Pay ID. If Apple Pay is not working properly for an Apple Store customer, retail employees will be able to use the "Apple Pay Demo" diagnostic software that can determine whether a device is having a hardware problem or other issue. For non-hardware issues, customers will be referred to their appropriate credit card providers or banks.


Apple's training materials note that its retail employee should emphasize the simplicity and security of Apple Pay to convince customers to use the service. All Apple Store employees will receive one hour of mandatory Apple Pay training this week ahead of the service's impending launch. The report also notes that Apple has already launched Apple Pay at its Caffe Macs cafeteria located in its 1 Infinite Loop headquarters.
An internal memo addressed to Walgreens employees that surfaced yesterday suggested that Apple Pay may be going live next Saturday, October 18. Apple Pay will be enabled on the iPhone 6 and iPhone 6 Plus through an update to iOS 8. The seeded versions of iOS 8.1 to developers first revealed hidden Apple Pay settings and set up screens, which may indicate that the service might be launching alongside the update.
Apple is expected to detail full launch plans for Apple Pay and iOS 8.1 at its event this Thursday, October 16. The company is also expected to announce its next-generation iPad Air and Retina iPad mini, new iMacs with at least the 27-inch version receiving a high-resolution Retina display, and perhaps even a new Mac Mini.