New Photo Claims to Show 2GB Elpida RAM Chips for iPad Air 2
Third-party Apple service provider GeekBar has shared a picture (via Weibo, Google Translate) of what is said to be a 2 GB Elpida RAM module for the iPad Air 2. The units shown appear to be similar to the 1 GB of Elpida DDR3 SDRAM found in the first-generation iPad Air, and the photo follows a report from last month which stated that the next-generation iPad Air would receive a memory upgrade to 2 GB of RAM.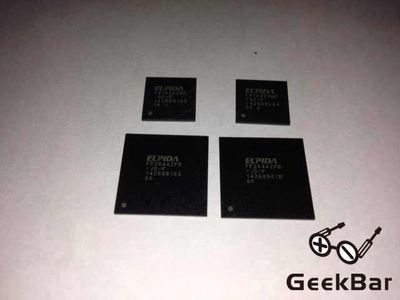 Apple first offered 1 GB of RAM with the iPad 3, keeping the same amount of memory in the iPad 4 and the iPad Air. It is likely that previous iPads have not seen a memory increase to keep costs low and preserve battery life, but Apple may offer 2 GB of RAM with the iPad Air 2 in order to offer the best performance on iOS 8.
Apple is also said to be working on split-screen multitasking for the iPad Air, which would require more memory than running just a single app. That report also noted that feature would allow two apps to run side-by-side in multiple sizes, and offer users the ability to drag content like text or images from one app to another.
Geekbar does not have an established track record with Apple rumors, however the company's Weibo account did reveal the barometric pressure sensor that was eventually included in the iPhone 6 and iPhone 6 Plus.
Apple is expected to unveil the iPad Air 2 and next-generation Retina iPad mini at a media event next Thursday, October 16. Some reports have also claimed that the company will announce updated Mac Minis and updated iMacs with at least the 27-inch model carrying a high-resolution Retina display.