GT Advanced Bankruptcy Unlikely to Affect Apple Watch, But Sapphire for Future iPhones in Doubt
A new report from KGI Securities' Ming-Chi Kuo suggests that Apple's sapphire partner GT Advanced Technologies' recent filing for Chapter 11 bankruptcy protection will not affect its upcoming Apple Watch. However, he cautions that it does raise concerns about the possibility of future iPhones using sapphire displays.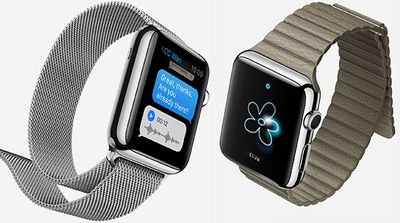 Bankruptcy has no impact on Apple Watch. As the Apple Watch sapphire cover lens uses an ingot of less than 6-inches, and as drop-test requirements aren't so stringent as those of iPhone, general ingot manufacturing processes such as KY suffice for Apple Watch. This is why there are abundant sapphire ingot suppliers to choose from for Apple Watch. According to our survey, aside from GTAT, other Apple Watch sapphire ingot suppliers are Hansol (KR) and Harbin Aurora Optoelectronics (CN). We therefore don't think GTAT's bankruptcy will affect sapphire ingot supply to Apple Watch.
... but it raises uncertainties on iPhone touch panel use of sapphire cover lens.
Kuo suggests that GT Advanced's ASF (advanced sapphire furnace) sapphire ingot isn't the only one it's considering to use for iPhone displays, though it is the company's preference due to the superior drop-test performance of GT Advanced's sapphire. And while Kuo believes that Apple still wants to use sapphire displays for iPhones, the bankruptcy of GT Advanced will likely result in bottlenecks in ASF sapphire production. Other sapphire ingot suppliers are unlikely to benefit, as they do not measure up to Apple's higher drop-test standards.
Apple had been widely expected to include sapphire display covers on some iPhone 6 models, but that development did not arrive. As Kuo notes, Apple still plans to use sapphire displays for Apple Watch, as it uses an ingot less than 6-inches and Apple's standards for drop-tests on the Watch are not as stringent as those for iPhone.