Apple Watch Being Displayed at Colette Boutique in Paris [Updated]
Ahead of an event planned for tomorrow in conjunction with Apple, Parisian fashion boutique Colette appears to be preparing to show off the Apple Watch at its boutique on Rue Saint-Honoré in Paris. Various photos on Twitter and Instagram show the location displaying the Apple Watch prominently, with different variants of the device being placed in colored ovals.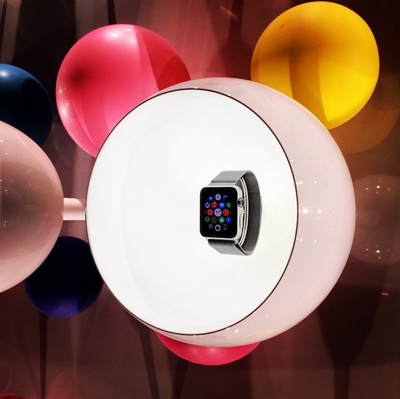 While it is not known as to what exactly will be shown off at Colette's event tomorrow, hints from the invitation flyer suggest that the Apple Watch will be the highlight. Colette has also been known to be very selective of what makes it into their flagship location, and it is likely that a collaboration with Apple is part of an initiative by the Cupertino company to push its wearable device as a fashionable item.


Apple announced earlier this month at its media event that it would start shipping the device in early 2015. A report after the event suggested Apple would be "lucky" to launch the watch by Valentine's Day due to issues with software development. The device will be available in three collections, including a high-end Edition collection which boasts an 18-karat gold enclosure and sapphire crystal display.
Update 9:13 PM: Colette's website has announced that the boutique is inviting people to preview the Apple Watch in a special one-day event.