iOS 8 Keyboards Climb to Top of App Store Charts
With yesterday's launch of iOS 8, devices running the new operating system are now able to install third-party keyboards that work on a systemwide basis. Most of the major keyboard makers were ready for the launch, introducing iOS 8 versions of their keyboards into the iOS App Store. One day after launch, three of these keyboards, including Fleksy, SwiftKey and Swype, are now at the top of the top iOS paid and free charts in the U.S. and other countries.
Within 24 hours of their debut, paid keyboards Swype and Fleksy climbed to the top two spots in the U.S. paid iOS app chart, displacing popular games such as Minecraft Pocket Edition and Five Nights at Freddy's. On the free app chart, Swiftkey jumped to the number one spot, beating out the now freemium and very popular 1Password password manager and the newly launched Amazing Thief game. Perhaps most impressively, SwiftKey has even displaced longtime number one Facebook Messenger from its spot atop the rankings.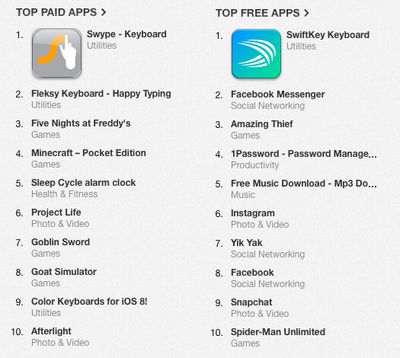 The new keyboards are of course benefiting from launch-day momentum of the iOS 8 debut, and it remains to be seen where they will settle in the charts following the initial surge of interest. Still, it is clear that many users are interested in at least trying out alternatives to Apple's default keyboard, even with its new QuickType suggestions implemented in iOS 8.
These three keyboards and more are available to all iPhone, iPad and iPod touch owners running iOS 8. SwiftKey [Direct Link] is available for free from the iOS App Store, while Fleksy [Direct Link] costs $1.99 and Swype [Direct Link] is 99 cents.