Earlier this week at its media event, Apple announced that it would be partnering with rock group U2 to offer its new "Songs of Innocence" album to 500 million iTunes customers for free. However, the deal upset some users who did not want the album added to their accounts or automatically downloaded in some instances. Now, Re/code reports that the album has been downloaded over 2 million times by users just three days after being made available.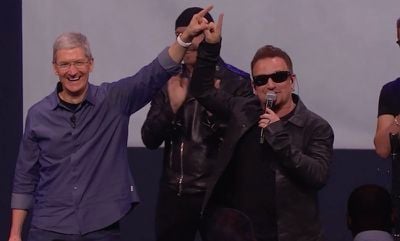 The move was part of an estimated $100 million deal between U2, Apple, and Universal Music Group, as reported by Billboard Magazine this morning. U2 manager Guy Oseary said in an interview with the magazine that the deal between the band and Apple was a "long-term relationship" while shooting down criticism that the deal was disruptive to the of rest music industry.
The deal has also been very beneficial for U2's back-catalog on iTunes, as 17 of their prior albums are currently on the iTunes Top 100. U2's "Songs of Innocence" will be available to download for iTunes customers until the middle of October.