Following today's media event that saw Apple unveil both the Apple Watch and two new versions of the iPhone 6, the company has updated its website to provide additional information on its iCloud pricing, ahead of the launch of both iOS 8 and OS X Yosemite.
Apple has a new range of iCloud Storage Plans available with prices that are highly competitive with other cloud storage companies. Customers will continue to get 5GB of storage for free, with 20GB available for $0.99 per month.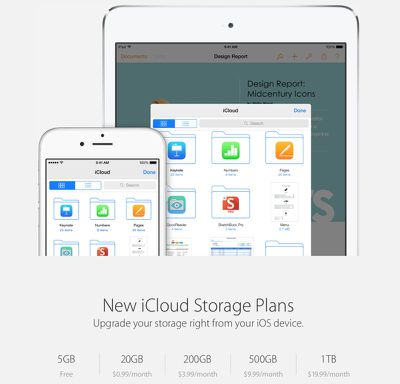 200GB of storage costs $3.99 per month, and 500GB is $9.99 per month. Apple's top tier storage, 1TB, costs just $19.99 per month, slightly more than Dropbox's new $9.99/month price for 1TB storage.
The launch of iOS 8 and OS X Yosemite will see the official debut of iCloud Drive, Apple's new cloud storage initiative. With iCloud Drive, users can store any type of document, including presentations, spreadsheets, PDFs, images, and more, and then access them from any iOS device, Mac, or PC.