Sapphire's Durability Put to the Test Head-to-Head Against Gorilla Glass
Repair experts at uBreakiFix have examined the impact resistance, scratch resistance and strength of sapphire glass in a series of tests that were published today. The tests were designed to determine whether sapphire is suitable for use as a smartphone display.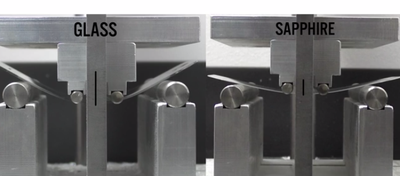 The repair technicians conducted three different tests -- a scratch resistance comparison using a tungsten carbide drill bit, a drop test with the sapphire display of the newly released Kyocera Brigadier, and a a four-point bend test to compare the failure stress and strain of sapphire glass with that of Gorilla Glass.
The results of uBreakiFix's tests show that sapphire is significantly more scratch resistant and 25 percent stronger than Gorilla Glass, but it is much more susceptible to impacts due to its brittleness. The glass is so brittle that it shattered the first time it was dropped face down from a height of only three feet.
The technicians conclude that sapphire does not necessarily offer any advantage over Gorilla Glass, as the material's superior scratch resistance and strength is offset by its low impact resistance. Phone manufacturers that include a sapphire display may choose to employ other protective measures such as a raised bezel to help protect the phone during impact with other surfaces.
Apple is partnering with GT Advanced Technologies to produce sapphire for use in future products. The exact details on how Apple will use the material is not known, but the company is rumored to be using sapphire as a display cover in future iPhone models and possibly its iWatch wearable product.