It appears that many individuals are currently experiencing issues with iCloud, with several people reporting difficulties receiving/sending iCloud mail and logging into iCloud.com. Users attempting to access iCloud.com are receiving the following error message: "iCloud encountered an error while trying to connect to the server."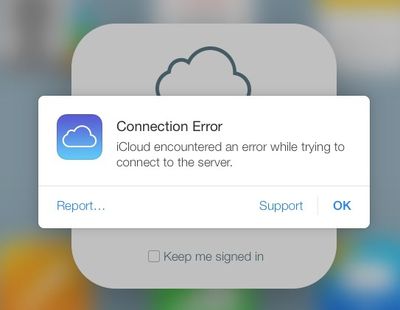 Users appear to have been experiencing issues for the last half an hour or so and Apple's System Status Page is now listing downtime for some users for a slew of iCloud services, including Find My Friends, Back to My Mac, Find My iPhone, iCloud Accounts, Photos, iWork for iCloud, and more.


Over the last several months, iCloud has been down multiple times, with the longest outage happening just over a month ago. In July, a small percentage of users were unable to access iCloud Mail for approximately 27 hours.
Update 12:30 PM PT: According to Apple's System Status page, the issues with iCloud have been resolved.