As spotted by iClarified, Apple is now reminding customers of upcoming "sales tax holidays" that allow residents in several US states to purchase select Apple gear without paying an additional sales tax charge. Customers potentially could save hundreds of dollars by purchasing high-priced items like MacBooks during this annual discount opportunity.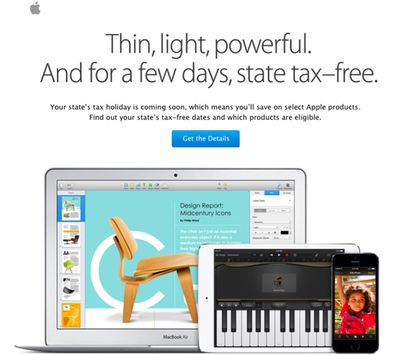 If your state offers a tax holiday this summer, you can buy select Apple products without paying sales tax.* When shopping online, sales tax will appear during checkout, but you'll see the correct tax amount on your email order confirmation.
The states that offer these summertime tax holidays that extend to Apple products include Alabama, Florida, Georgia, Louisiana, Massachusetts, Missouri, New Mexico, South Carolina and Tennessee. You can find a list of dates and qualifying items here. In most states, the tax-free holiday begins August 1st and lasts only a few days.