'Modbook Pro X' Tablet Based on 15-Inch Retina MacBook Pro Debuts on Kickstarter
Modbook, the company with a history of offering pen-based Mac tablets using the internals of Apple's notebooks, is announcing a new Kickstarter campaign today to support the launch of a new Modbook Pro X based on the 15-inch Retina MacBook Pro. The $150,000 campaign will allow users to send in their own machines for conversion at $1999 or reserve complete systems directly from Modbook starting at $3999.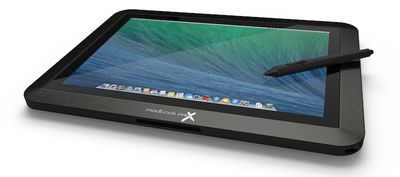 An innovative computer modification product, the Modbook Pro X incorporates the original hardware of a Retina-display Apple MacBook Pro 15.4-inch base system running the OS X 10.10 Yosemite operating system. The expansive drawing and writing surface of the Modbook Pro X has a scratch-resistant ForceGlass screen with paper-emulating texture that covers a crisp, clear 15.4-inch Retina display with a resolution of 2,880 by 1,800 pixels. Users get highly sensitive pen input with 2,048 pen pressure levels and pen tilt and rotate functionality for producing pro-quality creative deliverables.
Various configurations of the Modbook Pro X are available, including processor options ranging up to the top-of-the-line 2.8 GHz chip launched in the Retina MacBook Pro just yesterday, up to 32 GB of RAM, and up to 2 TB of flash storage.


Additional options for Modbook Pro X customers include integrated Keybars on the rear of the device providing eyes-free programmable access to key combinations for commands and shortcuts, as well as a Keyboard Stand that serves as a keyboard, adjustable easel stand, and protective cover for the Modbook Pro X.


Shipping on complete systems is scheduled for January 2015 in limited quantities, with the bulk of orders starting the following month. Send-in-your-own systems are planned to begin shipping roughly a month later.
Given its price, the Modbook Pro X is obviously targeted at a niche market interested in a tablet running full OS X such as creative professionals, but for those people the device may be an appealing option. For others, particularly those who would appreciate an OS X-based iPad, it's at least an interesting example of what can be done.
Backers not interested in a full Modbook system can also support the project through cheaper rewards such as a $59 Modbook Digitizer Pen that is compatible with an array of pen-based tablets or a Modbook Shuttle portable hard drive starting at $139.