Apple Begins Mass Production of 4.7-Inch iPhone 6, 5.5-Inch Model and iPads Start in September
China media sources (via GforGames) report that mass production of Apple's 4.7-inch iPhone is underway ahead of the phone's expected fall launch. These same sources claim the 5.5-inch version of the iPhone 6 has not entered mass production, further suggesting that the launch timeframe for this larger iPhone model is still uncertain.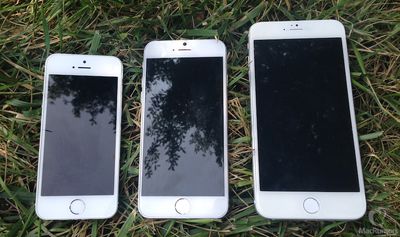 Besides the iPhone 6, Apple also is preparing the next-generation iPad Air and Retina iPad mini for mass production starting in September. Apple is expected to unveil its new iPads, possibly alongside the iWatch, at an October event that also will likely be used to announce the public release of OS X Yosemite.
As Apple prepares to launch new iPhones and iPads later this year, the company's Asian suppliers are gearing up to boost production by as much as 85 percent by Q4 2014. Some of this increased production may be handled by Foxconn robots, "Foxbots", with the company reportedly deploying as many as 10,000 robots at a cost of up to $25,000 each.
Anticipation for Apple's fall lineup of devices is high, fueled by comments from Apple executives that suggest the company will enter new product categories with a device lineup that is the best it has had in 25 years.