Analysts Predict Flat iPad Sales for Q3 2014, Slight Increase in iPhone Sales
Six months after the launch of the iPhone 5s, iPhone 5c, iPad Air and Retina iPad mini, analysts are expecting a slight rise in iPhone sales from last year, with little growth in sales of the iPad, according to new reports from Philip Elmer-Dewitt of Fortune.
Q3 2014 iPhone sales estimates from 15 Wall Street professionals and 11 amateurs range from 31.8 million to 42 million, averaging 35.88 million. During the year-ago quarter, Apple saw 31.24 million iPhone sales, and the estimated year-over-year change is 4.64 million or 14.85 percent growth.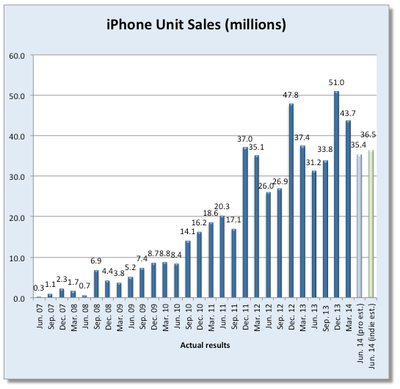 Q3 2014 iPad sales estimates from the 26 analysts range from 12.3 million to 16 million, averaging 14.43 million. During the year-ago quarter, Apple saw 14.62 million iPad sales, and the estimated year-over-year change is -0.19 million, or a slight -1.27 percent decline, which may not be as dramatic as the dip in sales during Q2 2014.

Did sales bounce back in Q3? The 26 analysts Fortune polled are almost evenly divided on the question, with slightly more expecting iPad sales to be lower this quarter than they were the same quarter last year.

The average estimate -- 14.35 million -- suggests that iPad sales were down sequentially and flat year over year. But behind that average is a rather wide range, from a high of 16 million (submitted by Asymco's Horace Dediu and Hilliard's Stephen Turner) to a low of 12.26 million (from Canaccord's T. Michael Walkley).
Thus far in 2014, Apple has not released new iPad or iPhone models. The company is expected to launch several new devices in the fall, however, including the iPhone 6 and updated models of the iPad Air and iPad mini with Retina Display, which will lead to much stronger sales later in the year.
Apple will announce its earnings for the third fiscal quarter (second calendar quarter) of 2014 on Tuesday, July 22. The earnings release is posted just after 4:30 PM ET following the close of regular stock trading, and the conference call is scheduled to follow at 5:00 PM Eastern / 2:00 PM Pacific.