DirecTV's 'NFL Sunday Ticket' Offered as Standalone Subscription, Available on Macs/iOS Devices [Updated]
NFL Sunday Ticket, a popular sports package provided by DirecTV, will be offered as a standalone subscription for the first time in 2014, letting users who do not subscribe to DirecTV service access NFL Sunday Ticket games on their Macs and iOS devices.
Though no announcement has been made, a promotional page noticed by AppleInsider details DirecTV's new standalone plan, which provides full NFL Sunday Ticket access starting at $199.99.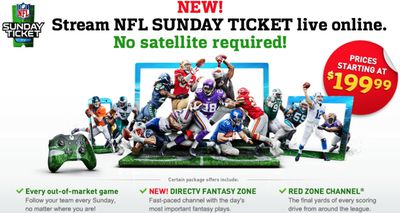 Introducing NFLSUNDAYTICKET.TV. NFL football for all.

Now you can access live, out-of-market NFL games without a DIRECTV satellite TV account--no matter what team you follow! NFLSUNDAYTICKET.TV lets you stream games on your computer, tablet, phone, or game console. All while keeping up with real-time player stats and your fantasy teams.
NFL Sunday Ticket has long been accessible on iPhone, iPad, and Mac devices, but in prior years, it has required a monthly subscription to DirecTV's satellite cable service and a satellite dish. Now users can get access on a variety of devices with three separate plans.
The lowest tier plan, available for $199.99, allows NFL Sunday Ticket access on computers, tablets, and phones, while a $239.99 console plan allows access on console devices.
MAX, the highest tier priced at $329.99, offers access on computers, tablets, phones, and consoles, plus access to Red Zone Channel, which shows every touchdown from every game, and access to DirecTV Fantasy Zone, offering live looks at fantasy plays. All three plans also offer real-time stats and scores along with the ability to track favorite players. Standard NFL Sunday Ticket plans for DirecTV subscribers begin at $240, going up to $324 for a MAX subscription.
The website does not mention Apple TV access, but a 2010 rumor pointed towards an NFL Sunday Ticket channel on the device, which could come to fruition this year following the announcement of the standalone subscriptions.
While DirecTV previously offered a streaming package for subscribers unable to get reliable DirecTV service and tested a console-based subscription plan last year, the new NFL Sunday Ticket standalone offerings expand the service to a much wider range of cord cutters who still want access to live sports.
The changes to NFL Sunday Ticket come following DirecTV's pending acquisition by AT&T, which is awaiting regulatory approval. DirecTV is also set to renegotiate its NFL contract later this year.
Sunday Ticket for iPad [Direct Link]
Sunday Ticket for iPhone [Direct Link]
Update 1:45 PM PT: As noted by Engadget, an FAQ on the DirecTV site indicates that the NFL Sunday Ticket subscription free plan may be limited to customers in "select areas, residence types, and enrolled in select universities." Users must enter their address information on the DirecTV site to find out if they are eligible.