iPad Implicated in Pediatric Rashes Diagnosed as Nickel Allergies [Updated]
Apple's iPad may be the cause of unexplained allergic rashes in children, reports The Washington Post, which cites a case study of an 11-year-old boy that was published in Pediatrics medical journal.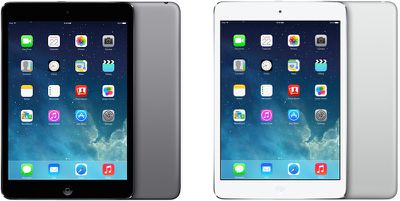 The Pediatrics article focuses on an 11-year-old boy who may be allergic to the nickel used in the casing of the tablet device. Following the increasing use of an iPad, the patient developed a rash that would not respond to conventional treatment.
His skin tested positive for nickel, one of the most common allergy-inducing metals, and doctors traced it back to an iPad he had used with increasing frequency the past six months. The iPad tested positive for nickel as well, according to the report.
Doctors advised the boy to use a Smart Case that covers the entire outer surface of the tablet. Similar to other reports of electronic device-induced rashes, the boy's skin condition improved significantly when he started using a case that prevented direct contact with the device.
As noted by the Associated Press, nickel allergies in children appear to be on the rise, with 25 percent of those receiving skin tests testing positive for nickel allergies, up from 17 percent a decade ago.
This iPad isn't the only device implicated in skin rashes. Earlier this year, Fitbit voluntarily recalled its Force fitness tracker after a growing number of users developed contact dermatitis from wearing the band. The rash was originally attributed to nickel in the charging port of the band, but that metal may not be involved as many users covered the nickel-containing port with tape and continued to experience a rash.
Update 3:00 PM PT: Apple has provided a statement to The Wall Street Journal noting that its products meet strict standards set for jewelry by the U.S. Consumer Safety Product Commission.
"Apple's products are made from the highest quality materials and meet the same strict standards set for jewelry by both the U.S. Consumer Safety Product Commission and their counterparts in Europe," Apple said.