Walmart will begin selling the 16 GB iPhone 5c for $29 and 16 GB iPhone 5s for $99 with two-year contracts starting tomorrow, according to Engadget.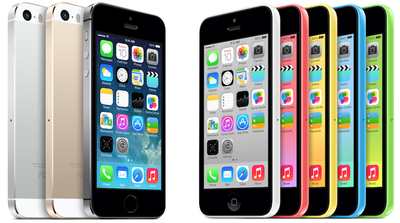 The retailer says that the price drop is permanent, unlike similar price drops the company has made for both the iPhone 5c and iPhone 5s. Walmart has discounted the phones before, dropping the price of the iPhone 5c from an initial $79 to $49 and the iPhone 5s from $199 to $149. The new price cuts discount the iPhone 5c and iPhone 5s $20 and $50, respectively, from Walmart's current prices.
Pricing will also be reduced for the 32 GB variants of both phones, but it's not yet known how much they could be discounted. Walmart price cuts will take effect tomorrow at 9 am local time.
Update: Walmart has confirmed to MacRumors that the 32 GB variants of the iPhone 5c and iPhone 5s will be on sale for $129 and $199 respectively, offering a $20 savings on the iPhone 5c and $50 savings on the iPhone 5s. It's unclear at this time whether the 32 GB price drops are permanent.