Google Announces 'Android Auto' CarPlay Competitor
At its Google I/O developer's conference in San Francisco, Google today announced Android Auto, its answer to Apple's CarPlay. Much like CarPlay, Android Auto is designed to bring the Android experience to a car's in-dash infotainment system.
As described by Google, Android Auto is contextually aware and puts the apps that users need front and center on the car's dashboard. Google stressed that Android Auto is "completely voice enabled," relying on Google Now much the way CarPlay relies on Siri for voice commands. Google also noted that it's able to offer a completely personalized experience that is mobile, working with any Android Auto compatible car as it is reliant on an Android phone.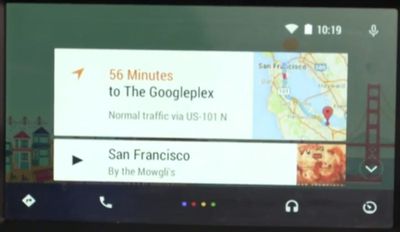 Android Auto integrates deeply with Google Maps, providing drivers with access to all Google Maps features like local search, personalized suggestions, live traffic information, and turn-by-turn navigation.
On stage, Android Auto was demoed planning a trip to the DeYoung Museum in San Francisco. Android Auto was first asked how late the museum was open, providing a response, before it was ordered to navigate to the location, where it offered turn-by-turn directions. It was also demoed composing and sending messages entirely via voice.
Like CarPlay, Android Auto integrates with several different app partners to provide music and other audio, such as MLB at Bat, Pandora, Spotify, Songza, Stitcher, iHeart Radio, and more.


Google also announced 40 new partners for its Open Automotive Alliance, which is a group of "technology and auto industry leaders" that are committed to bringing Android to cars in 2014. The goal of the alliance is to make "technology in the car safer, more seamless, and more intuitive for everyone."
According to Google, Android Auto will be available in 25 different car brands, with the first cars rolling off dealer lots before the end of the year. Google is also releasing an Android Auto SDK in the coming weeks so developers can create apps for the platform. Apple's CarPlay is also expected to be available in several different cars before the end of the year.