Microsoft Boosts OneDrive Cloud Storage to 1TB for Office 365 Subscribers, 15GB Free for All
Microsoft today announced several changes to its OneDrive cloud storage services, starting with a massive increase to 1 TB of storage for all Office 365 subscription plans. This expanded storage will be will be automatically added to existing Home, Personal, University or Business subscribers starting in July. While the 1TB feature is new for Home, Personal, and University users, this upgrade previously was announced for Office 365 Business subscribers.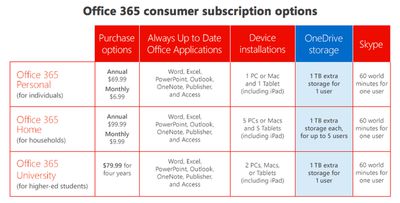 Today, OneDrive and Office are announcing a BIG change to that benefit for consumers, to the tune of 1 TB per user. That's right–we're increasing the OneDrive storage allotment included with Office 365 Home, Office 365 Personal, and Office 365 University from 20 GB to 1 TB. That's a whopping 50 times, or 5,000 percent increase in storage–and it's going to be here before classes are in session!
For OneDrive users who are not Office 365 subscribers, Microsoft has also sweetened the deal by boosting the free storage allotment from 7 GB to 15 GB. Prices for additional storage plans also are being slashed by 70 percent, with new monthly prices starting at $1.99 for 100 GB (previously $7.49) and $3.99 for 200 GB (previously $11.49).
This Cloud storage expansion is one of several recent initiatives that encourage consumers to use Microsoft's Office platform. Earlier this year, Microsoft brought its Office suite to the iPad with tablet-friendly versions of Word, Excel, and PowerPoint. The Redmond company also introduced a new Personal Office 365 subscription plan for individuals and a Home plan for families that complement its multi-user business subscriptions.
Apple is of course also expanding its cloud storage services alongside iOS 8 and OS X Yosemite with the launch of iCloud Drive. Apple has yet to announce full details on iCloud Drive pricing, but at a minimum it includes options at 5 GB for free, 20 GB for $0.99/month, and 200 GB for $3.99/month, with higher tiers also available.