Microsoft Launches 'Office 365 Personal' Plan for One Mac and One iPad at $69/Year
Microsoft today started selling its Office 365 Personal subscription, a less expensive version of Office 365 that targets individual users. The cloud-based subscription service provides access to online versions of Microsoft's Office productivity suite, online storage in OneDrive and a block of Skype calling minutes.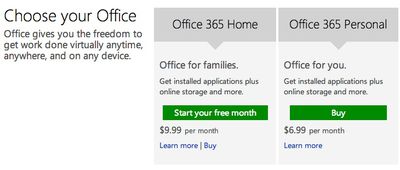 The new personal option allows subscribers to connect one PC or Mac desktop computer and one tablet, including the iPad, to the online service. It will cost $69 per year or $6.99 per month. Customers who require more connections can sign up for the Office 365 Home plan, which is geared towards families with support for up to five desktops and five tablets.
The new Office 365 Personal plan is available for purchase at Office365.com. It also is available at Microsoft Stores and through Microsoft's online and retail partners. Microsoft also offers Office 365 business plans, which are priced by the number of users and are designed for real-time, online collaboration using the Office 365 suite.