Hands-On Installation and Usage of TouchPal's Gesture Keyboard for iOS 8
Following Apple's announcement at its Worldwide Developers Conference earlier this month that iOS 8 would include support for third-party keyboards on a systemwide basis, a number of companies working on the technology indicated that they would be moving forward with plans to support iOS. Among those companies was TouchPal, with quickly released a video showing an early version of its sliding gesture keyboard in action.
TouchPal has now released its first alpha version of its keyboard for iOS 8 to select media outlets, giving a good look at how third-party keyboard will work on iOS 8.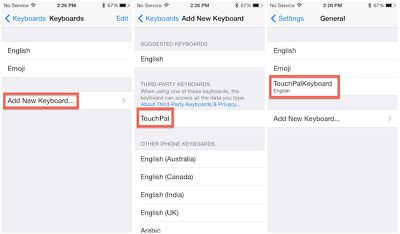 Installation is straightforward, leveraging a traditional App Store app to add TouchPal as an option when adding new keyboard in the Settings app. Once TouchPal is added, users can simply rearrange their installed keyboards in their preferred order, and rotate through each one while in use by tapping the globe key. Users who have activated the emoji keyboard on their devices will be familiar with that process.
Once activated, TouchPal is available anywhere a keyboard is traditionally used, such as in Mail, Messages, Safari, Notes, iWork apps, and third-party apps.


TouchPal's keyboard is similar to the perhaps more well-known one from Swype, allowing users to drag a finger in one continuous motion as they spell out the word. Based on the pattern drawn by the user, TouchPal suggests several options for the intended word, with highest-ranked option highlighted in the middle of the suggestions bar. Hitting the space bar or touching the word accepts the suggestion.
Numbers and common punctuation marks are input right from the main keyboard screen simply by flicking up or down on the proper key. Additional punctuation marks and emoticons are available by tapping the "12#" key at the lower left.
In our testing, there were definitely some glitches, particularly when switching between keyboards, but it is still early in the development process and Apple and third-party keyboard companies will continue to refine their implementations in the coming months leading up to the public release of iOS 8 this fall.