Fleksy Offers Beta Preview as Keyboard Makers Look Forward to iOS 8
Keyboard developer Fleksy today announced that the company has its iOS keyboard alternative running on iOS 8. Apple revealed earlier this week during its WWDC 2014 keynote that iOS 8 will support the system wide implementation of these third-party keyboards.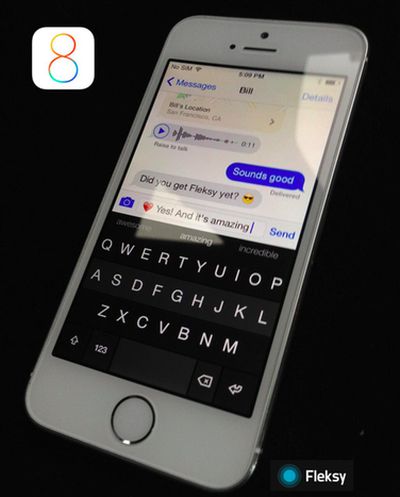 An alternative to a traditional keyboard, Fleksy boasts improved typing speeds through the use of automated word suggestions and a sophisticated autocorrect engine that corrects errors on the fly. It also incorporates a gesture system that lets users complete common tasks like inserting spaces and punctuation through swipes.
Fleksy tweeted a screenshot of its keyboard on iOS 8, along with an invitation for users to register for a preview of its iOS 8 keyboard app. iPhone and iPad owners running a beta version of iOS 8 on their devices can sign up for a preview on Fleksy's website. The company will notify customers via email when the public beta program goes live.
Fleksy won't be the only third-party keyboard available to consumers when iOS 8 launches later this year. Both Swiftkey and popular Android keyboard Swype confirmed they plan to launch iOS 8-compatible versions of their keyboard apps.
"We're delighted Apple has decided to embrace the importance of opening its platform to third party keyboards.
...
We first brought a taste of our technology to iOS in January this year with the launch of the free note-taking app SwiftKey Note. Are we going to build SwiftKey Keyboard for iOS 8? Of course we are. We've already started, writes Swiftkey founders Ben Medlock and Jon Reynolds."
Both Switfkey and Fleksy already offer versions of their keyboards for iPhone and iPad owners, but their functionality is limited due to iOS constraints that prohibit their system-wide installation. iOS 8 will remove this restriction, making it possible for all keyboard makers, including iOS newcomer Swype, to bring their keyboards to Apple's mobile platform. The beta version of iOS 8 is available now to developers, with a public release expected this fall.