Apple Looks at Using Wearable Sensors to Auto-Adjust iPhone Notifications and Alarms
The U.S. Patent and Trademark Office today published several patent applications describing an iPhone-based system to collect and analyze data from wearable and other types of accessory sensors, reports AppleInsider. Under the system, the iPhone could then track the owner's activity and respond with appropriate notifications and changes in the device settings.
One patent application, "Method and apparatus for automatically setting alarms and notifications," describes a method of associating motion data with a set of alarms. In this described invention, the iPhone could detect whether a user is sleeping or awake and adjust the settings for features such as "Do Not Disturb," for example. These motion data points may be collected from a device that is worn by the user.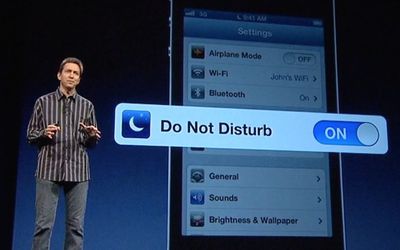 In a second patent application, "Method and apparatus for automatically repeating alarms and notifications in response to device motion", Apple proposes methods to control the timing of notifications that are delivered to an iPhone owner. In this invention, the iPhone can use sensor data to determine when a user is napping and can turn off all notifications until the owner is awake and moving again.
A final patent application, "Method and Apparatus For Personal Characterization Data Collection Using Sensors," describes how an iPhone-driven system could detect a user's activity level from "motion sensors, location sensors, ambient light sensors, and the like." This sensor-based data may be used to create a "personal scorecard" that compares your activity level to others in a group.
A processor-based personal electronic device (such as a smartphone) is programmed to automatically collect data sent by various sensors from which the user's activity may be inferred. One or more of the sensors may be worn by the user and remote from the device. A wireless communication link may be used by the device to obtain remote sensor data. In certain embodiments, data from on-board sensors in the device--such as motion sensors, location sensors, ambient light sensors, and the like--may also be used to deduce the user's current activity. In yet other embodiments, user data (such as calendar entries) may also be used to characterize the user's activty.
As with many patent applications, these inventions may or may not be incorporated into consumer-level products. In this case though, these methods align with Apple's rumored iWatch device, which is expected to ship with a variety of sensors to measure basic health and fitness parameters. Apple also recently announced a new Health app and HealthKit API that allows for the aggregation of health and fitness data from apps and wearable devices into a central repository that can provide an overview of a user's relative health.