Apple's Spaceship Campus Shown Off in Rendered Fly-Through
Construction at Apple's "Spaceship" campus in Cupertino is progressing at a rapid pace, and while the circular structure is still far from finished, the old buildings on the 176-acre site have been fully demolished, roadwork is underway, and the outer walls of the campus are taking shape, outlining where foundation will be poured.
Apple isn't slated to finish its the first construction phase of its second campus until 2016, but a video rendering from Technology Integration Services, a company that focuses on 3D design, shows what Apple Campus 2 might look like when it is completed.
Created from public plans of the structure's design, the video shows the multi-story circular building surrounded by greenery, as well as all of the additional buildings and parking structures that Apple plans to add to the area. There are hiking paths snaking around the property, in addition to a performance stage in the middle and a massive fountain area where employees can gather.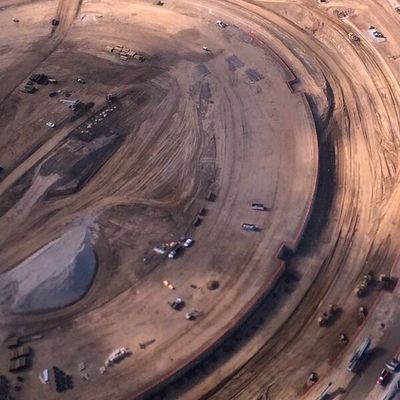 Current progress on Apple Campus 2 as of June 12, image courtesy of

Ron Cervi


The first phase of construction on the property includes a 2.8 million square foot ring-shaped main building, an underground parking facility capable of holding 2,400 cars, a 100,000 square foot fitness center, and a 120,000 square foot auditorium for events. Apple has plans to add more than 4,500 trees to the area, creating a lush working environment for employees.
Phase 2 of construction, to take place after 2016, will add research and development buildings and additional parking.