Adobe today announced a new $9.99 per month Photoshop Photography Program that includes Photoshop Creative Cloud, Adobe Lightroom, 20GB of online storage and a membership to Adobe's Behance portfolio website.
The $9.99 per month price is available to current owners of Photoshop CS3 or higher who sign up by the end of 2013.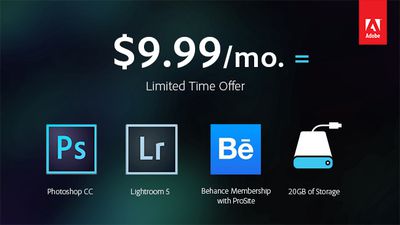 Since introducing Photoshop CC, we've listened to feedback from a spectrum of our customers, from advanced professionals to casual enthusiasts. One common request was a solution specifically tailored for photographers. We listened, and at Photoshop World we're announcing a special offer for our loyal Photoshop customers. Beginning today, customers who own Photoshop CS3 or higher are eligible for a special Creative Cloud membership offer that includes all of the following for just $9.99/month:

- Photoshop CC
- Lightroom 5
- 20 GB of online storage
- Behance ProSite
- Access to Creative Cloud Learn's training resources
- Ongoing upgrades and updates
The Photoshop Photography Program is not currently live, but should launch in a few weeks.
The standard Photoshop Creative Cloud membership for new users is $19.99 per month, and does not include Lightroom.