OS X Yosemite Designed for Retina Screens?
Macworld's Jason Snell provides a nice hands-on writeup about Apple's new OS X Yosemite. Snell focuses on the user-experience from a long term Mac user, focusing on the visual and usability changes of Mac windows. He notes the increased use of transparency and the varying implementation of title bars in many applications: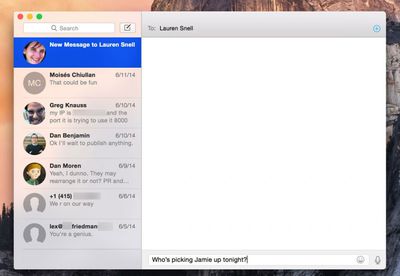 Overall, Snell feels that many of the design changes were done with Retina displays in mind:
For a while now, I've thought that 2014 would be the year that Retina spreads across the Mac product line. After spending time with Yosemite on both Retina and non-Retina systems, I'm more confident than ever in that guess. Yosemite's new design feels like it was built for Retina displays: Thin Helvetica Neue replaces the long-serving but chunky Lucida Grande as the system typeface.
Apple first introduced Retina displays into the Mac line in with the Retina MacBook Pro in June, 2012. Since that time, Apple has been slow to extend Retina screens to the rest of their lineup.
The MacBook Air seems likely to be the next Mac to deliver a Retina Display. Signs point to a 12" Retina model later this year, and there has already been early evidence in Yosemite of Retina iMacs in testing.