iTunes Match Users Experiencing Issues Uploading Tracks
A growing number of complaints on Apple's Support forums suggest there is an ongoing problem with Apple's iTunes Match service. According to the posts in multiple threads, the service times out when users try to upload new tracks for matching by Apple's iTunes servers.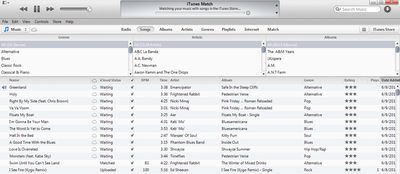 "I've been using iTunes Match for about a year and a half and have started experiencing a new problem in the last couple of days. I've added a few new tracks to my library over the last couple of days and have attempted to "Update iTunes Match." However, the matching process is stalling out at the end. It looks like it's just about to finish but then it never does, " writes Apple Support forum member Ryan Hargrove.
The issue apparently began on June 9/10th and is still affecting users almost a week later. Various attempts to fix the issue by updating iTunes, restarting the computer and more were unsuccessful.
"This started today. It was working fine. I have deleted my entire library and I can't even get one song to go through. Thoughts? I've been working with this all day. I have uninstalled iTunes, downgraded iTunes, upgraded iTunes again. Finally, I erased all data...Libraries...playlist data, etc.. I'm extremely frustrated now. I had synced about 4,000 songs since September and it had been working fine," writes Apple Support forum member ExileAtkins.
Apple has not acknowledged the problem, with its System Status page still showing that all iTunes services are fully operational. Further tests by affected users and MacRumors staff suggest the problem may only involve tracks that are not included in Apple's iTunes library. These self-recordings and Indie music tracks appear to stall during the upload process, while recognized songs are matched without issue.
We have reached out to Apple for comment and are awaiting a reply. Since this problem is likely a server issue on Apple's side, affected users will have to wait until Apple addresses the issue internally.
(Thanks, David!)