HealthKit Includes Native Bluetooth Support for Some Accessories, Eliminating Need for Companion Apps
HealthKit supports some medical Bluetooth accessories natively, allowing accessory makers to skip developing apps for iOS and focus on their hardware, according to 9to5Mac.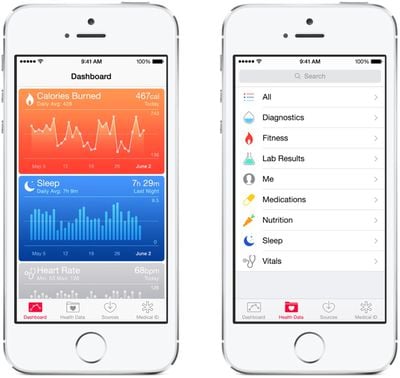 The accessories that will be built-in and supported natively by HealthKit include heart rate and blood pressure monitors, glucose sensors, and health thermometers. Apple is using official standard specs for Bluetooth LE devices from http://Bluetooth.org, which is what allows iOS 8 to automatically establish a connection with the devices listed above without the manufacturers worrying about anything on the software side.
HealthKit can automatically detect these Bluetooth medical devices and gather data from them, syncing them to the new Health app without the user having to do anything in a third-party app, making it easy for users to find health information in a single place. Additionally, device makers won't have to spend resources and time making an app rather than focus on their hardware.
HealthKit and the Health app are available to developers in the iOS 8 now. All three will launch in the fall for the general public.