Apple's upcoming Omotesando retail store located in Japan may incorporate a unique "green curtain" of vines and plants to help with climate control, according to Japanese Apple site Mac Otakara [Google Translation].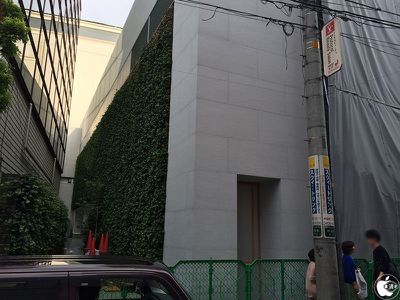 Though much of the store remains hidden under large curtains, one entire wall of the building appears to be entirely covered with plant life, which the site suggests is used to insulate the store to save energy. Toyko, where the store is located, can get quite hot and humid during the summer months.
The store's construction walls also show off a leafy design, hinting at its unusually "green" exterior. In recent years, Apple has committed itself to lowering its carbon footprint, utilizing 94 percent renewable energy for both its data centers and corporate facilities. Apple was featured as a "Green Energy Innovator" by Greenpeace back in April, and the company has also hired former EPA chief Lisa Jackson to head up its environmental initiatives.

While the Omotesando store design appears to be Apple's first of that nature, it is possible the company will adopt a similar strategy for future stores should it prove successful.
The new Omotesando store with its unique green wall may be opening as soon as June.