Apple Forgets to Renew SSL Certificate, Breaking OS X Software Update [Fixed]
Several readers have noted a strange error message appearing when trying to perform software updates from the Mac App Store.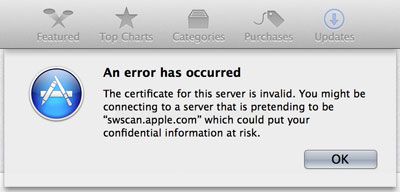 An Error has occurred

The certificate for this server is invalid. You might be connecting to a server that is pretending to be "swscan.apple.com" which could put you confidential information at risk.
Swscan.apple.com is one of several servers that Software Update uses to communicate with Apple. The apparent problem is that the security certificate for the server appears to have expired. The certificate was originally valid from May 22, 2012 to May 24, 2014.


This is a problem that Apple will need to fix on their side. In the meanwhile, users can manually download updates from Apple's support site.
Update: This may also be the cause of NSURLErrorDomain error -1012, which appears to have started in the same time.
Update 2: Apple appears to have fixed the certificate.