The original "rainbow" Apple logo signs that were used at Apple's Cupertino, California headquarters are set to be auctioned off in June for somewhere between $10,000-$15,000, reports Design Taxi (via The Verge).
The signs will be auctioned off by British auction house Bonhams, with the larger, 46 x 49 inch version made out of foam and the smaller, 33 x 36 inch version made out of fiberglass. According to the auction, both signs were given to a longtime Apple employee after their removal in 1997.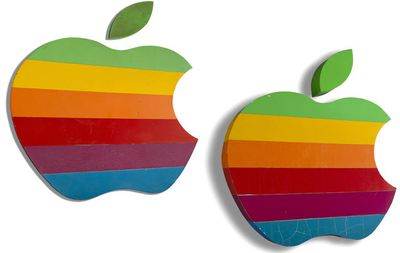 Two original exterior office building signs, approximately 46 x 49 x 1 1/2 inches and 33 1/2 x 36 x 6 inches, each with separate stem piece; the larger sign made of stiff foam with 6 vinyl applied colors; the smaller sign made of fiberglass backed with metal, vinyl applied colors; edgewear to both signs, some colors with slight pealing at transitions, larger sign with one color showing significant craquelure, both with stray marks and outdoor wear.


In use from 1977 to 1998, Apple's rainbow logo was designed by graphic artist Rob Janoff. According to Janoff, the logo was designed in two weeks after an examination of physical cross-sections and real apples, with the multi-colored stripe design personally approved by Steve Jobs. Appearing on every product from the Apple II to the Newton PDA, the rainbow logo was retired in favor of a monochrome version, which is still in use today.