There's a great deal on the entry-level 27-inch 3.2GHz iMac with 8GB of memory and a 1TB hard drive this week. It's available for $1,659.99 from Best Buy, Amazon, and B&H Photo, which marks a discount of $139 and one of the lowest prices we've seen.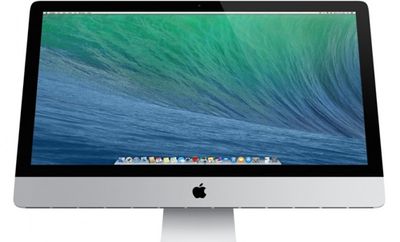 The best deal for many users will likely be from B&H Photo, as the site does not charge sales tax outside of the state of New York. Best Buy and Amazon, on the other hand, charge sales tax in many states, making B&H the lowest available price for most customers.
Lower prices are also available on some of Apple's other iMacs, but the deals aren't quite as nice. The entry-level 21.5-inch version can be purchased for $1,179 from Adorama or B&H Photo, a savings of $120, while the higher-end 21.5 inch model is available at $1,399 from Best Buy or B&H Photo, a savings of $100. The high-end 27-inch model is also available for $122 off from Adorama, at $1,878.
There are still deals to be had on Apple's 2013 MacBook Airs, which are nearly as good as the 2014 models. The entry-level 11-inch model can be purchased for $787 from Amazon, $112 less than the comparable 2014 model. The high-end 11-inch version is available for $939 from Amazon and $949 from B&H Photo, a savings of $150+.


As for the entry-level 13-inch 2013 MacBook Air, the best deals this week come from B&H Photo and Amazon, both of which are offering it for $899. The higher-end 13-inch model is available for $1,044.99 from Amazon and B&H Photo, $155 off the comparable 2014 model.


Several Apple accessories are available at a discount this week, including Apple's EarPods, which can be purchased for $15.95 (down from $29.99) from A4C. Lifeproof is offering 25 percent off of all its Fre and Nuud cases for the iPhone 5, 5s, and 5c with the promo code EVENT25 and Otterbox cases for the iPhone 5 and 5s are available for $18 from LivingSocial, a discount of $32.
MacRumors is an affiliate partner with some of these vendors.