SSD Speed Variations in 2014 MacBook Air Still Due to Drive Brand Mix, Not Broader Changes
For many years, Apple has used different suppliers for the solid-state drives (SSDs) in its MacBook Air models, with drive performance varying among manufacturer brands. A recent study by Macworld demonstrated rather dramatic differences in SSD read and write speeds between tested 2013 and 2014 models, but at the time it was unclear whether the poorer performance for the 2014 models was still simply due to drive brand variances or if there was something specific to the 2014 machines causing an overall degradation in performance.
Other World Computing (OWC) has now performed some apples-to-apples testing between 2013 and 2014 models with SanDisk SSDs, and has found that performance is nearly identical.
In OWC's testing using Blackmagic Disk Speed Test, the new MacBook Air model with a 128 GB SanDisk SSD reported read/write speeds of 705/315 MBps, while the 2013 version also with a 128 GB SanDisk drive scored similarly with read/write speeds of 711/316 MBps.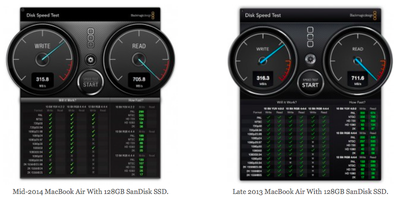 Macworld's testing of four machines (various combinations of 2013/2014 models at 11 and 13 inches) had included drives of two different capacities from three different manufacturers, making it difficult to determine the exact cause of the performance differences.
This variability in brand performance was noticed years ago, when Apple started using both Toshiba and Samsung SSDs in its MacBook Air models. Apple continues to use drives from different manufacturers in its 2014 models, including units from Samsung, Toshiba and SanDisk. How various batches of drives from the different manufacturers are assigned to various machines is unknown, and consumers are unable determine which brand of SSD is in their MacBook Air without opening the box and either booting the machine to examine system profile information or physically opening the machine.
Apple's new MacBook Airs are available from Apple's website beginning at $899, while the 2013 models are being sold at significant discounts through a number of retailers.