iPhone 6 Case Maker's Renderings Display Antenna Cutouts, Thin Design
iPhone 6 design renderings aimed at helping case manufacturers create early iPhone 6 cases ahead of the device's release have surfaced on Ukrainian website UkrainianiPhone [Google Translate] (via Nowhereelse.fr), from what the site calls a "reliable source of information."
The renderings are seemingly based on the same general design principles found in schematics leaked back in early March, but they provide more detail on what we might possibly expect from the iPhone 6. As with most of the current design leaks, the authenticity of the renderings cannot be confirmed.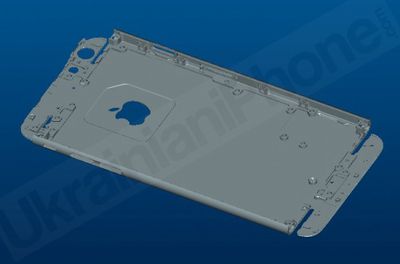 While the majority of renderings, cases, and iPhone 6 details leaked up until this point have failed to explain how Apple will incorporate antennas into the iPhone 6, the new Ukrainian renderings suggest that the back shell of the iPhone will not be all one piece, potentially leaving room in the aluminum casing for possible antenna inserts, similar to the design of the existing iPhone 5s. There are separate top and bottom pieces depicted in the renderings as well, which also point towards an antenna.


According to the renderings, the device will have a thickness of 6mm, which is somewhat in line with predictions from reliable KGI securities analyst Ming-Chi Kuo, who pointed towards a thickness of 6.5 to 7mm. At 6mm, the iPhone 6 would be significantly thinner than the iPhone 5s, which is 7.6mm thick. The renderings also suggest the iPhone 6 will have a length of 138mm and a width of 67mm.


As with the original design schematics, the renderings incorporate a rounded flash, which is a departure from the existing pill-shaped True Tone flash introduced with the iPhone 5s. There's also a sleep/wake button located on the right side of the device, and rumors have thus far suggested Apple could move the button to make it easier to access sleep/wake on a larger device with one hand.
Overall, the renderings are more or less in line with previous iPhone 6 rumors, which have indeed pointed to a thinner design with smaller bezels. Apple's iPhone 6 is also expected to include an upgraded A8 processor, Touch ID, and an improved camera.