Apple's New 'Powerful' iPhone 5s Micro-Site Profiles Apps from Latest TV Ad
Apple today unveiled a new section on its website dedicated to the "Powerful" ad that made its prime time television premiere on Tuesday. The commercial promotes the message that with the capabilities of the iPhone 5s "You're more powerful than you think."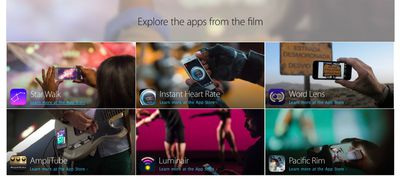 The accompanying website continues this "Powerful" theme that promotes the iPhone 5s as having the power "to create, shape, and share your life. The power to do everyday things in extraordinary ways, and to do extraordinary things every day." The new page includes both a high-definition version of the television commercial as well as links to all the apps showcased in the advertisement. The apps include Star Walk [iTunes], Instant Heart Rate [iTunes], Word Lens [iTunes], AmpliTube [iTunes], Luminair [iTunes] and Pacific Rim [iTunes].
The "Powerful" ad features "Gigantic" by the Pixies [iTunes] playing in the background while iPhone 5s owners use their iPhone to play music, create art and even launch amateur rockets. This new television advertisement follows the company's earlier "Your Verse" campaign that showcases how individuals are using the iPad in amazing ways.