Apple today was awarded a patent by the U.S. Patent and Trademark Office (via AppleInsider) that describes technology to partially disable a phone when the user is driving. The patent details several different lockout mechanisms that block functions like texting and SMS in order to reduce distracted driving.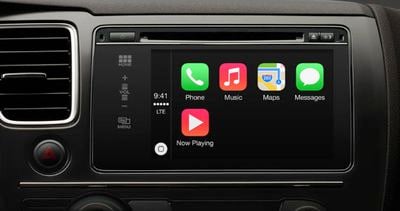 U.S. Patent No. 8,706,143 describes two main methods to block select iPhone features. The first method requires no input from the car and uses the iPhone's accelerometer and other on-board sensors to determine when a user is driving. Another method uses direct input from a car, which sends a signal to the iPhone that blocks a user from text messaging and using other mobile phone functions while behind the wheel.
The lock-out mechanisms disable the ability of a handheld computing device to perform certain functions, such as texting, while one is driving. In one embodiment, a handheld computing device can provide a lock-out mechanism without requiring any modifications or additions to a vehicle by using a motion analyzer, a scenery analyzer and a lock-out mechanism. In other embodiments, the handheld computing device can provide a lock-out mechanism with modifications or additions to the vehicle, including the use of signals transmitted by the vehicle or by the vehicle key when engaged with the vehicle.
The technology would contain a provision that would allow a phone to be used in a car by the passenger. This feature uses visual input and sensor data to determine whether a person is in the driver's seat or sitting in the passenger seat of the car .
As with all patents, this is proposed technology that may or may not make its way into a future device. Apple's in-car efforts now focus on the Siri-controlled CarPlay, which provides voice-controlled access to Maps, phone, messages and music.
The in-car technology initially debuted as a factory-installed option in new 2014 luxury models from Ferrari, Mercedes-Benz and Volvo and will be available as an aftermarket add-on via Pioneer and Alpine-branded receivers. It also will debut in 2015 Sonata models from Hyundai.