A&E, History Channel, and Lifetime Channels Added to Apple TV
Apple today has added new channels from A&E Networks to its Apple TV, including A&E, The History Channel and Lifetime. Select Apple TV owners will be able to watch episodes from popular TV shows such as Duck Dynasty, Storage Wars, and Project Runway.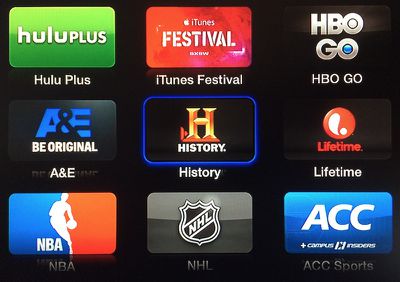 These new channels on the Apple TV offer a preview to all users, but full content is only available to cable television subscribers. Currently, the service is available to customers who subscribe to DirecTV, Verizon FiOS, and Cablevision Optimum, with support for additional providers coming in the near future.
The addition of these channels is part of a larger push by A&E Networks to expand their content beyond broadcast TV. Earlier this month, the network updated both its A&E [iTunes Link] and History Channel apps [iTunes Link], letting iOS owners stream live episodes of popular shows to their iPhone or iPad. Similar to the Apple TV, this iOS-based live streaming requires a valid cable subscription.