Dropbox Announces 'Carousel' Photo and Video App, Mailbox for Desktop
Dropbox today announced several new products for its desktop and mobile consumers, including Mailbox for OS X and a new photo and video sharing app called Carousel.
Carousel is a standalone app that is designed to organize a user's entire collection of photos stored via Dropbox, separating them into an event-based timeline that also highlights important moments and supports private messages. Photos automatically backup to Dropbox and sync across all platforms. They can also be shared in batches with and saved to other users' timelines via email or phone number, regardless of whether or not the user has a Dropbox account.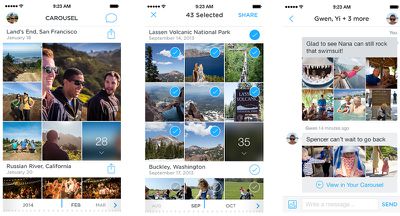 According to Dropbox, the app, deemed "one place for all your memories" backs up photos to Dropbox, with storage being tied to the amount of space in a user's Dropbox account.
We'd like you to meet Carousel: a gallery for all the photos and videos from your life. It combines the photos in your Dropbox with the photos on your phone, and automatically backs up new ones as you take them. Carousel sorts all these memories by event so you can easily travel back in time to any photo from any date. And unlike other mobile galleries, the size of your Carousel isn't constrained by the space on your phone, which means you can finally have your entire life's memories in one place.
While Dropbox already allows automatic camera uploads and image storage, photos are generally dumped into a single folder that doesn't offer many organizational options. Carousel will bring a whole new photo viewing and sharing experience that will make it much easier for users to browse through their image collections. The app will be live later today.
Along with
Carousel
, Dropbox has also announced plans to bring its popular Mailbox app for iOS to the desktop. There are few details available on the OS X version of the app, but it will likely function similarly to the iOS app, allowing users to "snooze" messages and organize them into lists. There's no prospective launch date on the horizon, but Dropbox is
accepting beta signups
.
Update 12:55 PM PT: Carousel is now available for download from the App Store. [Direct Link]