Amazon's Fire TV Is Powerful, but Voice Search Limitations Hamper User Experience
Earlier this week, Amazon launched its Fire TV media streaming box, entering a crowded market with devices from Roku, the Chromecast from Google and the Apple TV. With the Fire TV delivering a number of features rumored for a future Apple TV, reactions to Amazon's new box have certainly been of interest to Apple fans.
With an immediate launch for Fire TV, the device has already landed in the hands of reviewers and at popular repair shop iFixit, which promptly tore the device down. Early analysis of the Fire TV suggests the device has market-leading hardware that is hindered by less-than-perfect software.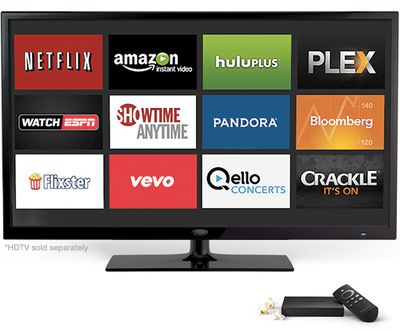 On the hardware front, iFixit confirms the Fire TV is a powerhouse with a quad-core, 1.7 GHz Qualcomm Krait 300 processor, Qualcomm Adreno 320 dedicated GPU, 2 GB LPDDR2 RAM clocked at 533 MHz, 8 GB internal storage, 802.11a/b/g/n MIMO Wi-Fi and Bluetooth 4.0. The Fire TV has the power to play back HD videos, with extra to spare for games.
Though the hardware is impressive, early reviews suggest the device's blazing performance is overshadowed by a poor search experience that makes finding content on the Fire TV a chore, says Dave Smith in a review for ReadWrite. While Voice Search offers an improvement over typical manual input, its results are limited to Amazon services.
Due to the extreme limitations of Voice Search, browsing through Netflix — where you'll probably spend most of your time, considering Amazon's rather limited library of quality movies for free streaming — is, once again, manual labor.

In time, applications like Netflix and Hulu+ could support Voice Search—maybe even through a simple software update. But since searching is so important on this device, Amazon has really hung early-adopters out to dry. Even when Voice Search works, it can't filter the results by movies or programs you can stream for free.
Because of its high-end hardware, Amazon couldn't undercut its competition and had to release the Fire TV at a price point that is on the high-end of the market as noted by Leslie Horn of Gizmodo.
"More features and more horsepower are rarely a bad thing, but in this case it's driven the price of Fire TV much higher than one might have expected from an Amazon product. In a world full of $35 Chromecasts and $50 Roku sticks — which definitely can't do as much as Fire TV, but can arguably do more than enough — forking over $100 for the ability to play some biggie-sized tablet games is a tough sell."
Scott Stein of CNET focused on the gaming feature of the Fire TV, saying it isn't groundbreaking and doesn't offer a compelling alternative to existing smartphone, tablet, or console games.
Don't expect anything more than what Android/iOS already offers: the Fire TV's initial offerings, while better than I'd expected, cover a lot of familiar bases. Terraria, Badland, Asphalt 8, Riptide GP 2, Dead Rising 2, The Walking Dead, even Minecraft Pocket Edition...you can already get all these in many other places.
To help set it apart from its competitors, Amazon included an app store, gaming and wireless controller support to Fire TV. Earlier rumors suggest Apple will bring similar features to its next generation Apple TV, adding support for games and Apple's iOS 7 controllers to the media box. Other rumors point to a device with the router features of the AirPort Express as well as a possible cable TV tie-in with partners such as Comcast.