The upcoming USB 3.1 specification, an update to USB 3.0 that provides a throughput of up to 10 Gbit/s, also includes a new "Type C" connector, which is reversible much like Apple's Lightning cable.
Announced in December [PDF], the reversible design was said to be smaller in size, similar to existing Micro USB plugs. While no cables are available yet, the USB Implementers Forum (via CNET) has released renderings showing what the cable might look like.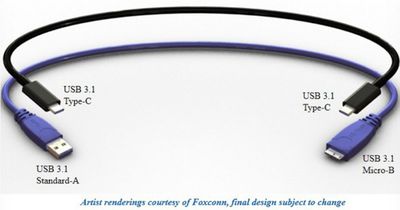 The reversible design, which looks a lot like a Lightning cable, aims to replace USB and Micro USB with one cable that can be used from either direction. The USB prong is 8.3 x 2.5mm, which is much smaller than standard USB ports but larger than Micro USB.


At the current point in time, the cable's design has yet to be finalized, which means a final product could look somewhat different. The specification is expected to be finished in July of 2014.