OWC Debuts First Intel Xeon Processor Upgrades for 2013 Mac Pro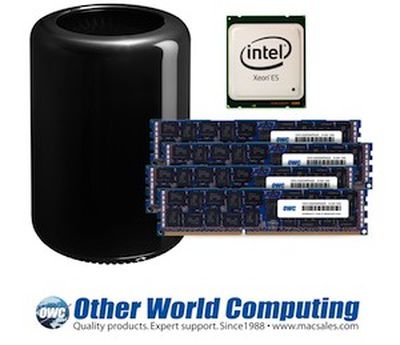 Back in January, OWC confirmed that the 2013 Mac Pro's processor was socketed and removable, theoretically allowing for future upgrades, which are now available by the company. As of today, OWC is allowing users to send in their Mac Pros for both processor and memory upgrades.
Processor upgrades, which start at $1,498 with the trade-in of the base Apple-supplied quad-core processor, include 8-core, 10-core, and 12-core models that are compliant with Apple's technical specifications and power requirements. OWC says that the upgrades are tested, qualified, and guaranteed to meet or exceed the processors available from Apple.
According to the company, the processors are up 46 percent faster than base factory processors available from Apple, and up to 31 percent more affordable.
OWC Turnkey Server Class Processor Upgrade options for Mac Pro 2013 models:

- Intel Xeon E5–2650 v2 8-Core 2.6GHz with 20MB Cache, 25% faster, $1498
- Intel Xeon E5–2667 v2 8-Core 3.3GHz with 25MB Cache, 41% faster, $2448
- Intel Xeon E5–2690 v2 10-Core 3.0GHz with 25MB Cache, 45% faster, $2396
- Intel Xeon E5–2697 v2 12-Core 2.7GHz with 30MB Cache, 46% faster, $2978
The company is also offering turnkey installations of its memory upgrades, which as previously announced, are available in 32, 64, 96, and 128 GB kits starting at $449.
OWC's Turnkey Upgrade Program, which is available for processor, memory, and storage upgrades, offers professional installation and testing by Apple Certified technicians, also including shipping both ways and rebates for existing hardware. More information on the program can be found on the Other World Computing upgrade website.