Samsung today announced the UD590, a new 28-inch 4K monitor that will go on sale this April in the US market for $700 (Via Engadget). The UD590 model includes a 28-inch display with 3840 x 2160 resolution, 1 billion (10-bit) colors and 1 millisecond response time, making it suitable for gaming or watching high-action sports or movies.
The UD590 ships with a picture-in-picture feature that allows users to connect two computers to a single monitor and view both desktops side-by-side. This same option provides a single user with the ability to view different content in two separate windows without a drop in resolution.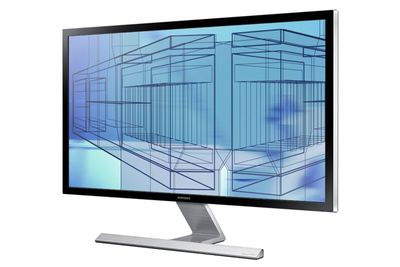 Samsung's UD590 monitor has a minimalist design with a simple T-stand and color options of silver or black. It features two HDMI ports, one DisplayPort connector and no DVI ports. The UD590 can be pre-ordered now for $699 and will start shipping April 18th.
This is the year of affordable 4K monitors with other manufacturers also selling 28-inch displays with sub-$1000 price tags. Lenovo will start selling the ThinkVision Pro2840m in April for $800, while Asus plans to launch its own $800 28-inch offering in Q2 2014. Announced earlier this year, Dell already is selling the 28-inch 4K P2815Q for under $700 on its website.
For those interested in 1080P monitors, Samsung also announced the SD390 and SD590 models. Both monitors will be available in 23.6 and 27-inch sizes and will feature a combination of HDMI and VGA ports. Pricing will start at $250 for the D390 and $310 for the SD590 when the monitors go on sale later in April.