South Carolina-based accessory maker Twelve South has introduced a new version of its popular BookBook MacBook case called the Rutledge. Though it has the same basic design as previous BookBook for MacBook cases, the company is proud of a new leather coloring technique that it developed that involves adding and removing color multiple times to enhance the natural look of the leather.
It's so unique that the company's leather expert didn't think it could be done when they began developing the process. Also new is a case specifically designed for the 13" MacBook Pro with Retina Display, which is 7% smaller than it's non-Retina brother. Twelve South is introducing a new version of the classic BookBook to fit that machine as well.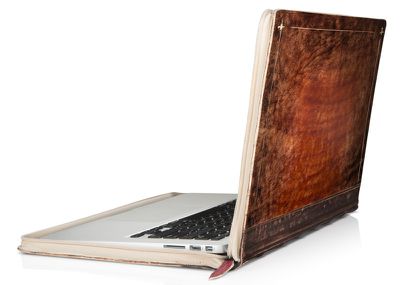 BookBook Rutledge Edition is the most distinctive version of our unique BookBook family. The Rutledge is tailored from premium leather and each mesmerizing cover is a unique work of art. No two look exactly alike. Like our other BookBook models, this beauty features two hardback covers, a rigid spine and a velvety soft padded interior to protect your MacBook. While the case protects your MacBook, the design protects your unique sense of style. The Rutledge Edition is available for MacBook Air, MacBook Pro and MacBook Pro with Retina Display.
The Rutledge ($100), made in India, is aimed at a slightly more premium market than the standard BookBook ($80). It is available from Twelve South's website in four different sizes for the 11" MacBook Air, the 13" MacBook Air/Pro, the 13" MacBook Pro with Retina, and the 15" MacBook Pro with Retina.