Microsoft Wants to Expand Xbox Live Capabilties on iOS and Android 'In a Big Way'
Microsoft has been aiming to entrench its popular Xbox Live service into both the iOS and Android ecosystems for several years, having introduced its first Xbox-compatible app SmartGlass in 2011, along with a few other iOS and Xbox hybrid apps.
SmartGlass, which is also available for the Xbox One, is designed to be a companion app that allows gamers to access and control their Xbox game consoles to browse content and track achievements. The SmartGlass app also allows an iOS device to be used as a remote control and a keyboard for the system.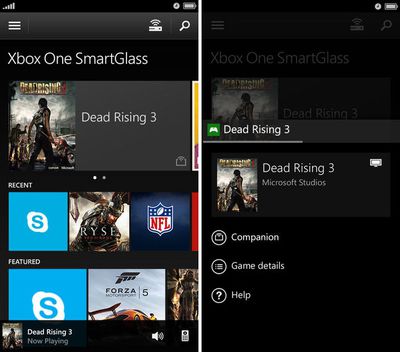 Microsoft may be aiming to expand Xbox Live on iOS even further, according to a new report from The Verge, which suggests the company wants to poise Xbox Live as an optional replacement for Game Center.
While Microsoft has experimented with achievements on iOS and Android recently, the company is planning to push Xbox Live cross-platform in a big way soon. Sources familiar with Microsoft's plans tell The Verge that Microsoft is building a platform to extend Xbox Live functionality to iOS and Android games.
Back in December of 2012, Microsoft experimented with an iOS game that provided gamers with Xbox Live achievements for reaching in-game milestones. The company plans to expand on this concept, making it easier for iOS and Android developers to incorporate Microsoft's framework into games on their respective platforms.
Microsoft already offers tools that allow Xbox Live functionality to be integrated into games, but to access them developers are required to be certified through Microsoft, which is a significant barrier to entry.
According to job listings found by The Verge, Microsoft is currently assembling a team that will create an "open-source, lightweight, extensible and scalable" framework that spans multiple platforms including the Windows Store, Windows Phone, iOS, and Android. Such a system, with fewer restrictions, could make it easier to integrate Xbox Live into apps and games.
Apple and Google both have proprietary game progress tracking in the form of Game Center and Google Play Games, but Microsoft appears to be aiming to get Xbox Live on all platforms, leading to a unified achievement system that would work with multiple systems.