Apple Tops Fortune's 'Most Admired Companies' List for Seventh Consecutive Year
Apple again topped Fortune's annual list of the "World's Most Admired Companies", claiming the title for the seventh year in a row. Apple's ranking on the list was followed by Amazon, Google, Berkshire Hathaway, and Starbucks.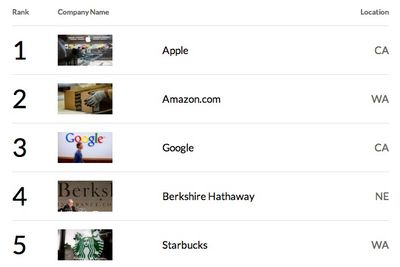 The ranking was based on a survey taken by corporate peers including executives, directors, and industry analysts who graded each company based on key attributes such as innovation, people management, social responsibility and more. Apple earned an overall score of 7.94, beating out Amazon which scored a 7.09.
The iconic tech company known for the iPhone and other stylish and user-friendly products is back in the top spot on this year's list, for the seventh year in a row. Apple, the most valuable brand on the planet according to Interbrand, brought in $171 billion in revenues in FY2013 and is flush with cash, but fan boys and girls (not to mention the market) are getting antsy to see its next big product. Bets are on a smartwatch or AppleTV, but the company is also reportedly turning its attention to cars and medical devices. -- Erika Fry
Apple was also ranked number one in seven of the nine key attributes of reputation listed in the poll. It ranked number five in social responsibility and number two in global competitiveness, following rival Google in the latter category.