LaCie has launched several new products with Seagate's new 5TB drives, including a new Thunderbolt 5-bay RAID array that puts up to 25 terabytes of storage in one 5-bay unit. LaCie's is using Seagate's new drives featuring 'Shingled Magnetic Recording' technology to push the physical boundaries of magnetic storage.
The new drives are also available in LaCie's d2 Quadra for $350 and the d2 USB3.0 Thunderbolt for $450.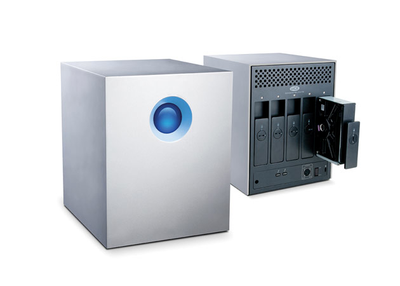 More speed means a leaner workflow. Get 785MB/s* thanks to five 7200rpm/64MB cache hard disks preconfigured in RAID 0. With these speeds, you have all you need for any post-production work. Handle multiple 2K uncompressed 10-bit streams. And with capacities up to 25TB, you have enough storage for today and the future. For example, you could store all your project's raw daily footage onto a single LaCie 5big. Focus on your creative projects without the hassle of managing multiple storage devices.
LaCie says their new RAID is the largest 5-bay storage product on the market, sporting speeds up to 785MB/s. The RAID is available in three configurations, 10TB, 20TB, and 25TB, for $1000, $2000, and $2500 respectively -- Thunderbolt cable included -- from LaCie's website or the Apple Online Store, with the 5TB d2 available for $450 and the 5TB Quadra for $350.