Apple is expanding its Maiden, North Carolina data center again according to permits filed with Catawba County, reports The Hickory Daily Record. The plans say the additional data center building will cover 14,246 square feet with walls 25 feet tall, made of precast concrete wall panels along steel columns, similar to the "tactical" data center that was added in 2012.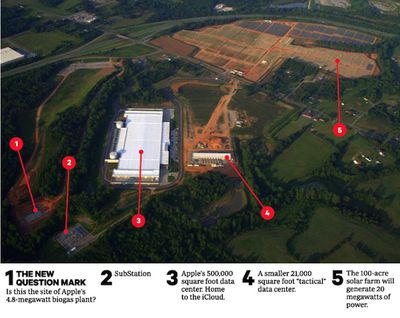 Like the previous tactical data center, plans for the new one shows banks of computers in the main portion of it and 11 air units to cool it. Two more air units will supply the office and other occupied area of the data center.
Its security measures appear to be similar to that of the previous data center, including what's called a man-trap door — one door closes before the second one opens.
Apple's facility in Maiden is enormous, with a 100-acre solar farm and a 500,000 square foot data center, with plans in place for a second. Apple also has data centers built or under construction in Prineville, Oregon and Reno, Nevada.