iPhone 6 Said to Adopt 'Bezel-Free' Display
Apple's iPhone 6 will reportedly gain a "bezel-free" display when it launches later this year, according to a report from The Korea Herald focusing on both the next-generation iPhone and Samsung's upcoming Galaxy S5 smartphone.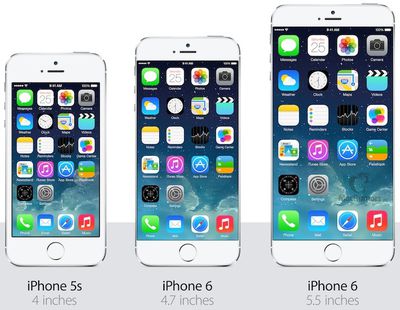 Mockup of iPhone 5s compared to larger bezel-free 4.7-inch and 5.5-inch iPhone 6 sizes
No significant details about Apple's plans for the iPhone 6 are shared in the report, with the majority of it focused on the Galaxy S5 and only a few sentences noting that Apple is working on a "similar" prototype with bezel-free display and fingerprint sensor. Samsung will reportedly be using a more standard fingerprint sensor than the
display-wide
fingerprint scanner or iris scanner that had previously been rumored for the device.
"Scanning fingerprints on the entire screen, which was much talked about recently, will be available in the latter half of this year as there are still technological hurdles to overcome," [the source] added, hinting that the production yield for the full-screen fingerprint scanner is still far from satisfactory.

The source said that Samsung's top rival Apple is also testing a similar prototype sporting a bezel-less screen that features a fingerprint scanner.
Last November, Bloomberg reported that the iPhone 6 was planned to feature a larger display with "glass that curves downward at the edges", perhaps alluding to a bezel-less design in which the edge of the device is formed by the display glass itself rather than a separate bezel. A report last month from The Wall Street Journal claimed that the iPhone 6 "won't include a curved display", but it is possible that both reports could be correct if the design were to include a flat display panel fused to glass (or sapphire) cover that curved at the edges.