Smart Dock with Orientation-Aware Functionality, Induction Charging Detailed in Apple Patent
Apple has been awarded a patent by the U.S. Patent and Trademark Office (via AppleInsider) detailing a flat smart dock that would be able to determine the orientation a device is placed in and perform actions such as induction charging, data syncing, diagnostics testing, and more.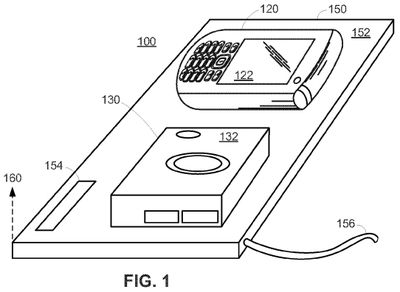 The patent, which was originally filed in 2012, details a dock that includes components such as a processor, memory, internal power supply, and multiple sensors among other components. The dock is described as being a central point in the transfer of data between a user's device and a host device such as a computer. Data itself would transfer between two devices through a wire such as a Lightning cable or through wireless networking.
In terms of identifying different orientations, the patent states that the flat dock would be able to recognize factors including the rotational position and the proximity of a device. For example, if a user leaves a device face down, the dock would perform charging, whereas leaving a device face up would allow for data syncing and charging at the same time. A device on the smart dock would provide on-screen information about the current action being performed as well.
In some embodiments, a physical orientation of a user device placed on a surface of a docking device may be determined. The physical orientation may include a translational position (e.g., Cartesian coordinates, polar coordinates), rotational position (e.g., an angle value about a suitable axis), a facing direction (e.g., face-up, face-down), any other suitable physical orientation relative to any suitable reference, or any combination thereof. For example, a physical orientation may be a position of a user device on a surface of a docking device.


Support for multiple devices on the dock is described in the patent, as the dock would be able to perform actions such as data transfers and charging on devices in close proximity to each other. Transfers between a host device and a primary device placed on the charging surface are also described as a capability of the smart dock.
It is unknown whether Apple plans to create such product or not, but the company has shown strong interest in some of the technologies described in the patent. It was reported earlier this week by The New York Times that Apple was testing induction charging among other methods for its upcoming "iWatch" project. This, coupled with past rumors stating that the iWatch will serve as an accessory to iOS devices would make it a prime candidate to benefit from the functionalities of the smart dock described in the patent.
Apple also filed a patent for a separate smart dock last December, which emphasized voice recognition and single-device use through a regular multi-pin connector. The existence of either device would be of a new effort for the company, as Apple currently sells docks with limited functionality for the iPhone 5c and iPhone 5s. Other accessories such as the iHome family of clock-radios and speaker systems offer a bit more functionality, but very little in the context of deep interaction with a device.