Apple Files Patent for 'Smart Dock' with Voice Recognition for Devices
Apple has filed for a United States patent detailing a smart dock that would allow users to access voice recognition functions such as Siri once a compatible device is connected, reports AppleInsider. The patent describes the dock as composing of multiple parts including a housing with a touch screen, integrated microphone, speakers and tactile buttons, along with a connector, wireless radio, and internal processor.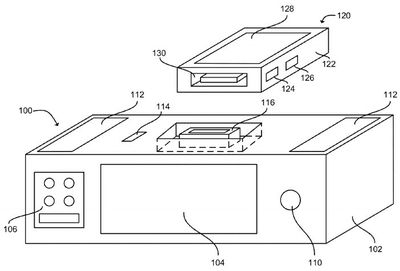 In detail, a user would assign an audio prompt to the device upon setup such as a spoken word, phrase, or hand clap that would trigger the dock for use, and can also "unpair" voice recognition functions with another specific audio prompt. This allows for the dock to filter out ambient noise and allow a voice recognition feature like Siri to perform effectively when listening and responding to the user upon being given a task. For example, a user could create an event on a calendar by giving a verbal cue to the dock holding a connected device and speaking the appropriate prompt.
In yet another embodiment, when the voice recognition mode of the portable electronic device is activated, the processor of the portable electronic device is further configured to receive voice input from the dock via the receptacle connector, the voice input including a use request. The processor retrieves the requested information and generates audio output including a response to the user request. The audio output is transmitted by the processor to the dock via the receptacle connector.
The patent also details other embodiments of the invention where the signals between the dock and device can be transmitted wirelessly, potentially allowing for things such as AirPlay functionality. Also described are potential add-ons to the dock, including removable storage media such as an external hard drive, a GPS receiver, and environmental sensors such as an accelerometer or temperature sensor.
It is not known if Apple will actually create a smart dock for its products, but the existence of a device as detailed in the patent would be of a new effort for the company. Currently, Apple sells docks for the iPhone 5c and iPhone 5s, but both of them act merely as charging cradles for the devices. Other accessories such as the iHome family of clock-radios and speaker systems offer a bit more functionality, but very little in the context of deep interaction with a device.